Rethink your Drills, Improve your Skillz
SPORT, IT'S ALL IN THE MIND
Everything that you do on the pitch, is more than just the performance of movements and techniques. This is because both the quality and the speed of your actions are largely decided in your head. With every action, your brain goes through 4 phases:
Firstly, you gather information through your senses. For example, the position of teammates and opponents, distances and free spaces. The majority of this information is collected via the eyes.
This flood of information must then be processed, organized and interpreted at lightning speed, giving you the basis upon which to make decisions quickly and correctly.
Only then is the action physically executed, as your brain activates all the muscles and joints involved in the movement.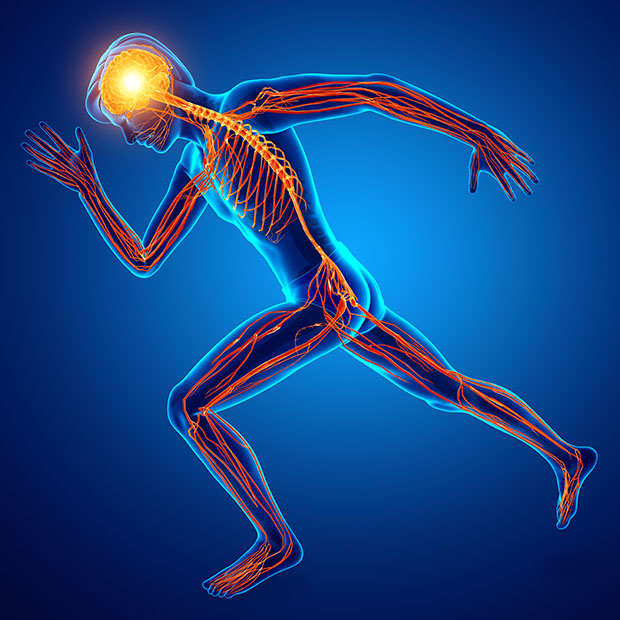 "THE DIFFERENCE BETWEEN A GOOD FOOTBALLER AND A GREAT FOOTBALLER IS DECISION MAKING. DOING THE RIGHT THINGS IN THE RIGHT MOMENT"
JÜRGEN KLOPP, FC LIVERPOOL
At SKILLSHIRTZ, we are convinced that in order to reach an athletes full potential, all four phases of the action process must be trained and developed in a targeted way.
Conventional training approaches tend to focus only on the last phase of the process, i.e. action and movement. Perception, processing of information and decision making are often neglected.
At SKILLSHIRTZ, we develop sessions, exercises and training tools that specifically train and improve the cognitive abilities of athletes, concentrating in particular on the first three phases of the action process.
"PHYSICALLY, THE LIMIT HAS BEEN REACHED, BUT COGNITIVELY, REGARDING PERCEPTION, THERE IS STILL LOTS TO BE DONE"
Julian Nagelsmann
"Football is played with the head. Your legs are just the tools."
Andrea Pirlo
"WHEN A PLAYER HAS GOOD TECHNIQUE AND GOOD PACE, BUT IS COGNITIVELY SLOW, IT CAN REDUCE HIS VALUE TO THE TEAM."
Joachim Löw
"THE DIFFERENCE BETWEEN A GOOD FOOTBALLER AND A GREAT FOOTBALLER IS DECISION MAKING. DOING THE RIGHT THINGS IN THE RIGHT MOMENT"
Jürgen Klopp, Liverpool FC
"WHEN YOU ARRIVE AT BARCA THE FIRST THING THEY TEACH YOU IS: THINK, THINK, THINK, QUICKLY. LIFT YOUR HEAD UP, MOVE, SEE, THINK"
Xavi Hernández, FC Barcelona
"IF YOU WERE TO ASK ME, WHERE THE GREATEST DEVELOPMENT POSSIBILITES IN FOOTBALL ARE, THAT'S QUITE CLEARLY IN THE MIND"
Ralf Rangnick
"WITH THE BALL, HE IS CLEAR. HE SEES ABSOLUTELY EVERYTHING. HE MAKES THE RIGHT DECISIONS IN THE RIGHT MOMENT EVERY SINGLE TIME."
Pep Guardiola, Manchester City on Kevin de Bruyne
"RUNNING IS FOR ANIMALS. YOU NEED A BRAIN AND A BALL FOR FOOTBALL"
Louis van Gaal
"VALID INTUITIONS DEVELOP WHEN EXPERTS HAVE LEARNED TO RECOGNIZE FAMILIAR ELEMENTS IN A NEW SITUATION AND TO ACT IN A MANNER THAT IS APPROPRIATE TO IT."
Daniel Kahneman
"I PREDICT THAT IN 5 - 8 YEARS, COGNITIVE ABILITIES WILL BE A CENTRAL PART OF TALENT SCOUTING, SELECTION PROCEDURES, TRAINING MANAGEMENT AND TRAINING METHODS, FROM JUNIOR TO PROFESSIONAL LEVELS."
Prof. Dr. Daniel Memmert
STILL HAVE QUESTIONS
ABOUT OUR CONCEPT?
If we haven't been able to answer all of your questions, or if you'd like to give us your feedback, we'd love to hear from you.